Leah Messer and Corey Simms Divorce: Custody Battle Imminent?
Posted: 04/20/11 03:05 PM ET
by Huffington Post
Reviewed by Attorney Nichole A. Collins, Family Law Division Leader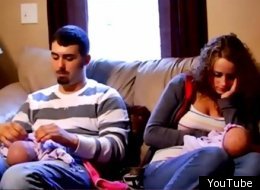 Is a custody battle on the horizon for "Teen Mom" star Leah Messer and her soon-to-be ex-husband Corey Simms?
According to the Kanawha County Clerk's office, 18-year-old Messer filed for divorce from her husband of six months on April 14th, though she declined to state a reason for the split.
Us Weekly reports that the former couple have consistently fought over finances and childcare, though infidelity may have triggered the filing.
"Leah thinks Corey cheated," an anonymous friend told the magazine.
Hollybaby speculates that other factors contributed to the breakup, including Simms' purchasing a new truck with their joint finances and both Messer and Simms' verbal and physical abuse of each other.
The battle between the young reality stars is expected to get uglier, as Simms plans to ask for full custody of their 16-month-old girls, Aliannah and Aleeah.
A source told OK! Magazine that Simms' father vowed to "spend as much as he has to ensure that Corey gets custody."
Review by Attorney Nichole Collins-
Custody battles between younger couples can become very emotional and aggressive. They are often unable to cope with the role as a new parent and deal with the responsibilties of married life at that same time. Less mature individuals are often times more likely to wind up in a courtroom because they cannot deal with the social and economic realities of a new family and home life. Particularily, unwed parents are often most likely to become embroiled in custody disputes early on in their relationships. Contact us at the number above if you have questions. Or log onto our site at http://www.shafferengle.com/Family-Law/. You may contact Attorney Nichole Collins directly at nichole@shafferengle.com.